---
Dark, ethereal and surreal, a haunting indie rock duet driven by a tribal mix of bass-heavy beats interwoven with mystical Native American poetry that resonates like the echoes of a ghostly dream -- Nohuusóho'.

Inspired by Clark's Amazon Top Selling western horror novel "Dead Balance", the music and lyrics of "River of Lost Souls, In My Dream and Logan's Lament" (part of a WIP concept album & film) continue a spiritual journey into the surreal shadow world where Grammys® Recording Academy Artist Gary Wayne Clark (a.k.a. Earamas®; Rise of the Chimera, Passage to Niburu) weaves his musical mystery. Channeling the spirit of the Ancient Ones, Logan Lone Bear Tuu'awata is a troubled Arapaho boy whose spirit is trapped between two worlds as he calls out to his soul mate, Raven Thunder Sky. With a host of ethereal voices speaking a shamanic spectral dream language of Arapaho and English, these haunting songs deliver a heartfelt message across the divide for those who desperately cling to love... beyond the boundaries of this world.
---
For Your Consideration: ​59th Annual Grammy® Awards
​Best Rock Song - Logan's Lament
As Featured in Clouzine Contemporary Music Magazine
Electronic Experimental World Independent discovering awesome artists from all over the world…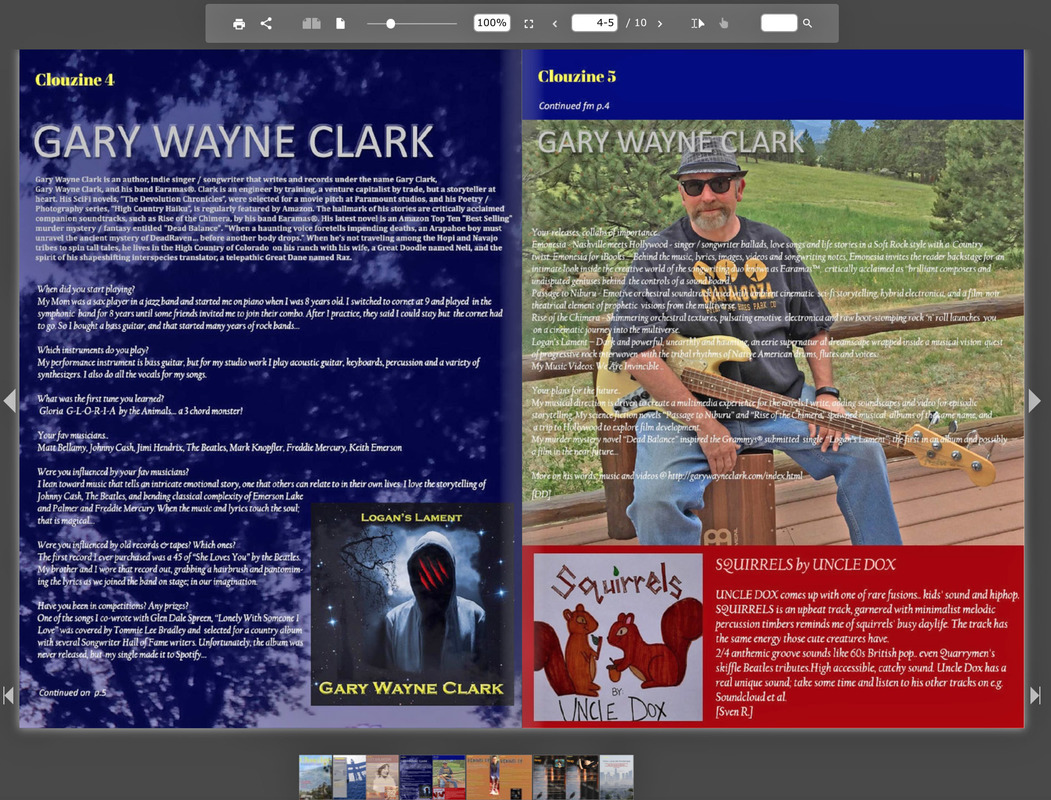 And on Ethnocloud --
​Gökyüzünün her yerinde kutsal bir ses arıyor ...
En todo el cielo una voz sagrada está llamando ...
All over the sky a sacred voice is calling...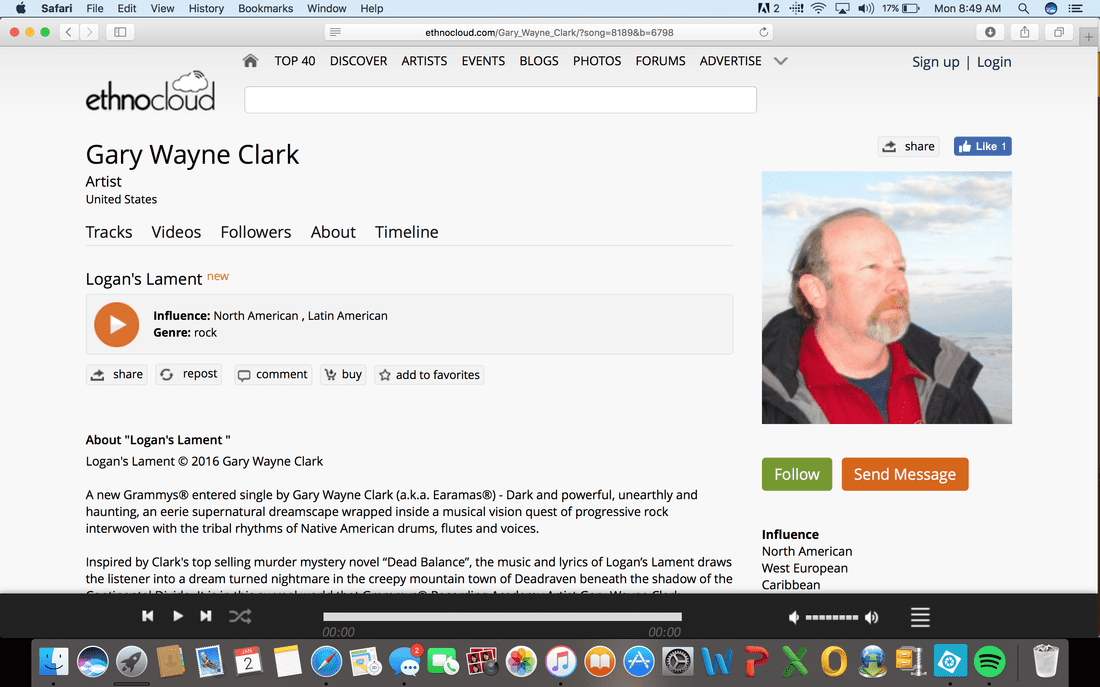 ---
Featured Artist on Skope Radio!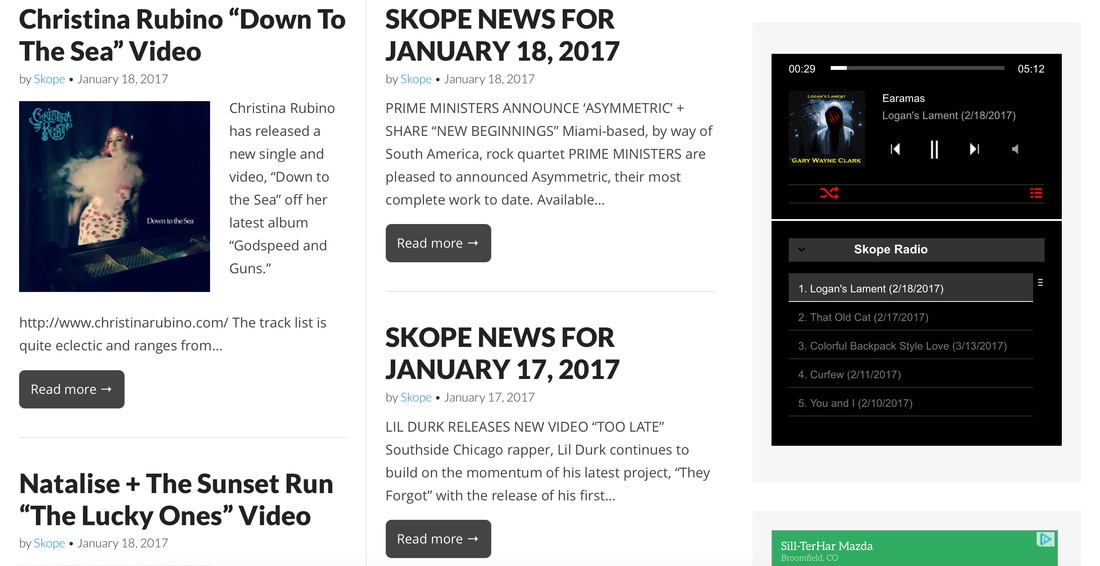 A new single by Gary Wayne Clark [a.k.a. Earamas®] - Dark and powerful, unearthly and haunting, an eerie supernatural dreamscape wrapped inside a musical vision quest of progressive rock interwoven with the tribal rhythms of Native American drums, flutes and voices.

Inspired by the top selling murder mystery novel "Dead Balance", the music and lyrics of Logan's Lament draws the listener into a dream turned nightmare in the creepy mountain town of Deadraven beneath the shadow of the Continental Divide. It is in this surreal world that Grammys® Recording Academy Artist Gary Wayne Clark (Earamas®; Rise of the Chimera, Passage to Niburu) reveals his adept musical and lyrical terror that places you inside the mind of Logan Lone Bear Tuu'awata, a troubled Arapahoe boy with a paranormal talent for locating dead bodies, as he slowly descends into madness.

With a host of ethereal voices speaking in a demented dream language of Arapaho, Hopi, Spanish and English, Logan's Lament delivers a frightful and disturbing mood for any brave souls that dare to don their headphones and venture into the dark corners of the mind. After listeners double-check the lock on the closet door and peer under the bed, they will be destined to sleep restlessly with one eye open… for the more they listen, the more they will hear.
---
"Gary Wayne Clark has created an engrossing story with exciting character depth in his novel Dead Balance… a diverse landscape of mystery, sweeping mountain imagery and cultural insight."
--Red City Review

"A crime novel set in the Colorado backcountry, mixing gritty suspense, supernatural horror, and Native American folklore. With this mix of horror, mystery, and the unexplained, Clark (The Devolution Chronicles: Rise of the Chimera, 2011, etc.) builds an intriguing setup and a diverse cast of characters. A promising start to what could be a fresh paranormal-crime series…"
--Kirkus Reviews

---
| | |
| --- | --- |
| The mountain resort of Deadraven hides a dark secret until a disabled veteran in a remote cabin receives an eerie message describing a grisly killing—before it happens. Baffled, the local Sheriff enlists the help of Logan, a troubled Indian boy with a scary talent for locating dead bodies, but when Logan's vision quest to track the killer goes awry, the hunter becomes the hunted. As murder and ancient myths collide, Logan and the Sheriff race to stop a ruthless killer before another body drops. | "A Rocky Mountain holiday—it's to die for." |
---
"Gary Wayne Clark and Glen Dale Spreen are brilliant composers and undisputed geniuses behind the controls of a sound board." Rhonda Readence

- 
ReviewYou CD Reviews, Rating: 5 stars (out of 5)

Recently accepted into the prestigious Grammy® Recording Academy, Gary Wayne Clark and music partner Glen Dale Spreen are honored to be voting members for this year's

Grammy®

awards.
New Country Single by the Songwriters from Earamas™!

Eclectic Texas blues artist Tommie Lee Bradley teams with Grammy® Recording Academy songwriters Gary Wayne Clark and Glen Dale Spreen (a.k.a. Earamas™) for the soulful country ballad, "Lonely With Someone I Love".

Vocal artist Tommie Lee Bradley has recorded for Columbia and PolyDor Records, REO Speedwagon and Harry Chapin. Her big-screen credits include lead and background vocals on Stayin' Alive," starring John Travolta, directed by Sylvester Stallone; "Lookin' To Get Out," starring Ann-Margaret and Jon Voight; "Never Too Young To Die, " starring John Stamos, Vanity, and Gene Simmons; "A Perfect Couple," starring Paul Dooley (Grace Under Fire) and Ted Neely (Jesus Christ Superstar). An eclectic, talented and versatile southern blues-based singer, her most recent solo album is entitled Soul Soup.


---
---
---
Gary Wayne Clark is an engineer by training, a venture capitalist by trade, but a storyteller at heart. In the course of his research, deep in the basement of a university biotech lab, he spliced together genes and created artificial life. Life that nature never intended, life not governed by the laws of evolution, and life that's determined to survive at any cost.

And it was that exact moment that would become the genesis of his first novel "The Devolution Chronicles: Passage to Niburu." Standing there, looking down at his mutated creation, he asked himself - what if man's technological arrogance to play God resulted in his own destruction? What would it mean for the future of mankind?

For a Shakespeare quoting Chimera, a sci-fi femme fatale and her telepathic wolf-dog shaman it will mean an intrepid journey; a journey to another dimension, another world... and you are invited to come along for the ride.

---
Choose Your Path
The road to enlightenment can be as difficult to walk as a razor's edge. As there are many dimensions to my personal world of Creative Destruction, one must first choose a path...

---
---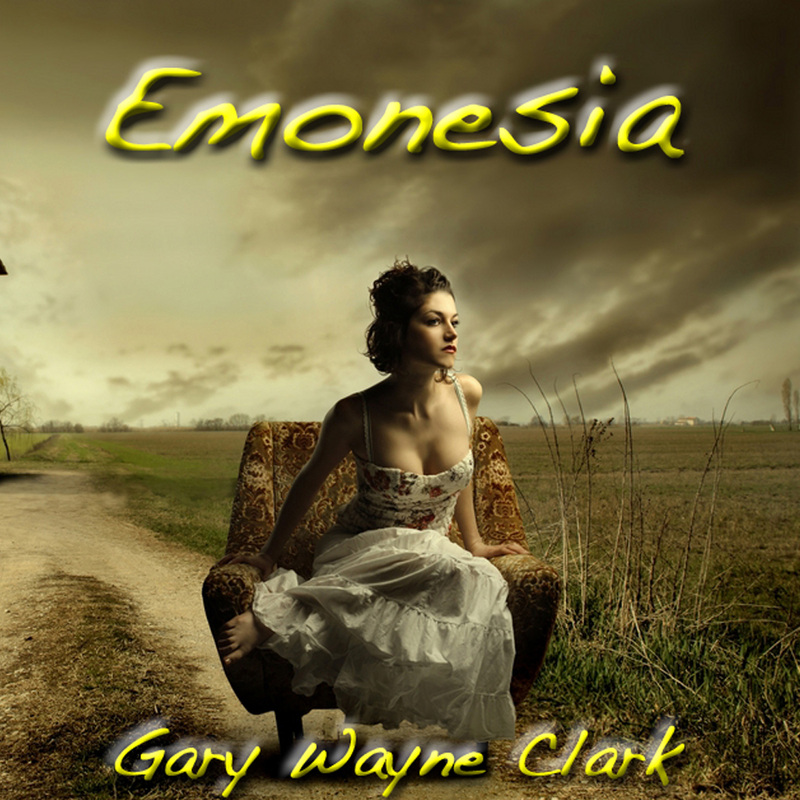 "Behind the music, lyrics, images, videos and songwriting notes, Emonesia is an interactive musical journal of love lost, desperately sought, and ultimately found that invites the reader backstage for an intimate look inside the creative world Gary Wayne Clark and Glen Dale Spreen... the songwriting duo known as Earamas™."

---
Haiku for dancing hot dogs

Now playing in theaters everywhere - my new High Country Haiku commercial.

17 syllables of mouth-watering simplicity, wrapped around a deeper meaning. While the hot dog is dancing with the popcorn, discover your own personal path to enlightenment.

Oooh, pass the Raisenettes...

---